WIHA supports students of Offenburg
Wiha acquired two swap chassis in 2010.
Due to the fact that the rear extension have to be activated by crank and muscle power the Mechanical Engineering Students of Offenburg decided to automate the acutator.
So they put it into practice in their projekt in the subject "Managementmethoden" in summer semester 2012.
The focus of the projekt wasn't a implementation in practice but to perform better the students actualized it practically, too.
So we placed a Chassis, premises and material at the students disposal for free.
The projekt had been presented after several weeks of construction at the academy and was honored with the highest possible mark (1,0).
Since then the vehicle is used for daily operations.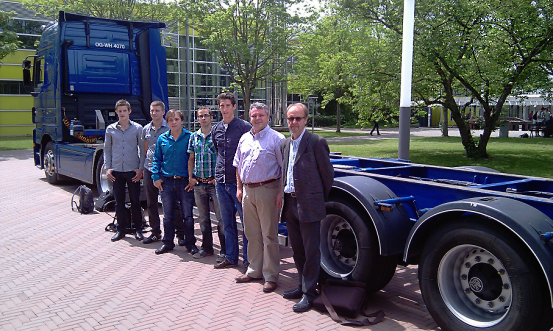 From left the students Benjamin, Patrick, Simon, Fabian and Clemens, along with the head of
department Prof. Isele und Hr. Wengert.